55 inch 3-blade/tri-blade carbon fiber propeller for mega UAV Drone Airplane paramotor paraglider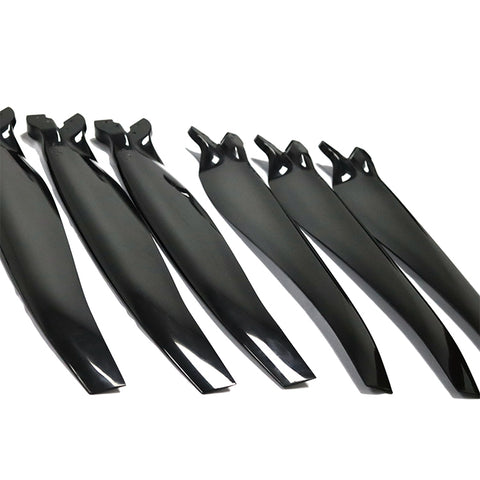 Material: Carbon Fiber
Includes : 1 sets of CW or 1 sets of CCW propeller
Epoxy resin cover
Size:27.5 inch each blade, 3 blade diameter is nearly 55 inch
Matt color
Condition : 100% Brand New
 1.High strength
2.Light weight
3.Corrosion resistant
4.High temperature resistant.
MP23850 38kv
Eprops: tri-blade propeller
ESC: 100v 

300A or 120v 500A flier esc

Voltage
Current
Thrust(KG)
98V 
33A 
24.8
98V
64A
40.3
97V 
100A
54.3
97V
134A
65kg
97V
160A 
75.7
97V
190A 
83.1
97v 
200A 
88.5
97v 
210A
92
90% throttle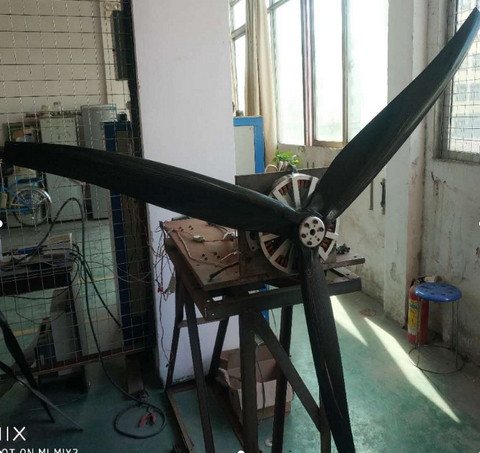 For a paramotor use, the propeller must :
- be exactly adapted to the engine and the RPM
- give the best thrust
- be ultra-light to be as reactive as possible, and to guarantee a long life to the engine
The freerchobby propellers are very different from the other propellers. They have special profiles, patented designs, and special position of the blades to reduce the blades drag, so to obtain the best thrust.
1- Propeller efficiency
Propulsion efficiency factor is calculated from propeller diameter and engine power. This efficiency factor is the max achievable propeller efficiency. Then, it is up to the propeller designer to come closer to this limit.
This software allows the team to imagine new propellers concepts, by using particular geometries and profiles developed inhouse. That is why propellers are very different from other propellers proposed at present on the market.
When we speak of efficiency, we obviously speak of thrust and also of fuel consumption.
A propeller which has a better efficiency allows to reduce the fuel consumption of the engine.
2- Blades number
For a paramotor use (it means low speed), for the same diameter, more blades = more efficiency.
A 3-blades has a best efficiency (= a best thrust) than a 2-blades.
=> Please note :
This is true if the blade form is exactly adapted to the configuration : a blade of a 2-blades propeller mounted on a 3-blades or 4-blades hub would not give the best performances.
The "universal" blade for any configuration does not exist. Every propeller has a dedicated blade geometry, or the efficiency would not be the best.
3- Propeller diameters
[return to top]
The increase of the diameter is better for the efficiency, because of the improvement of the pusher efficiency.
More thrust is obtained with a propeller with a diameter of 150 cm than with a propeller with a diameter of 125 cm.
With the same number of blades, the thrust gap depends on the diameters and on the engine + reducer.
4- Propellers : 2-blade / 3-blade
[return to top]
Some people are saying that the wake of the third blade of a 3-blade propeller is crossing the wake of the 2 other blades, and this phenomenon decreases the efficiency of the propeller.
That's wrong. The wakes of the different blades cannot crossed themselves. It is physically impossible, because the blade's wake is sweeped away by the wind.
Demonstration :