iframe ..    Waterproof Intelligent Remote Controller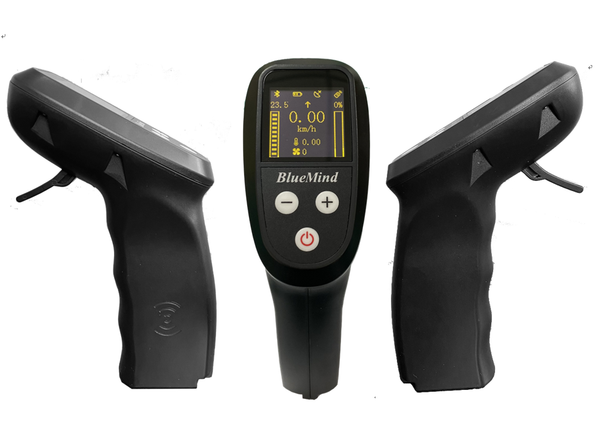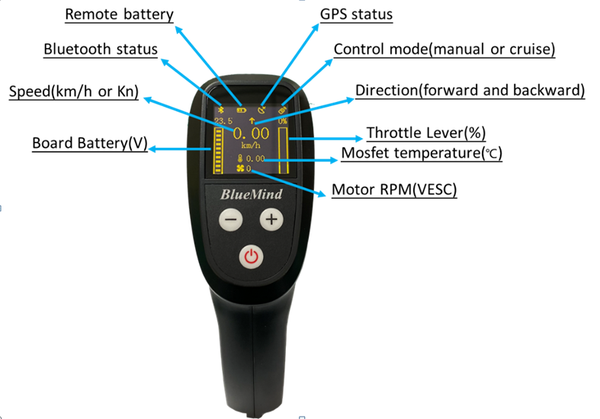 Applications:
Hydrofoil
Electric Surfboard
Electric Paddle Board
Kayak
Electric Skateboard
Electric Longboard
Features:
Excellent waterproof performance: By using magnetic encoder, waterproof screen and wireless charging, the protection level of remote controller IP68 is realized

Multi-parameter display: Speed, Direction, Battery status, Bluetooth and GPS signal status, ESC temperature, motor rpm, Cruise status, and Throttle

Multi-protocol support: VESC Communication Protocol, PWM, Dshot300

Integrated housing: The shell is glued using ultrasonic technology to improve the operation comfort and appearance

Multi-operation mode: Throttle, Cruise (10% step length increase or decrease)

Convenient charging: Wireless charging technology is adopted to realize remote charging and use
Parameters:
Handle (Transmitter):
Waterproof: IP68
Sensor Type: Non-contact Hall sensor
CPU: NRF52840
Battery: 3.7V/1450mAh
Endurance Time: >10 hours
Display: 128x128 1.5" OLED, Yellow screen
Receiver:
Power Supply: 3.3V
Throttle signal output: 1-2ms 50Hz PWM 5V Max/VESC TTL
Voltage detection range: 5-60V
Wireless charger:
Wireless charging standard: QI
Input interface: Micro USB
Input: 5V/2A
Output: 5V/1A
Charging power: 10W
Operation and configurations:
Handle (Transmitter):
Power On: Hold Button  for 1 Second.
Power Off: Hold Button  for 1 Second.
Pairing Guide:
Power on the receiver
Power on the transmitter and keep a distance of <1 m to the receiver
When the Bluetooth symbol stops flashing, pairing is successful.
CRUISE CONTROL:
Cruise Control On/Off: Hold Button  for 2 Seconds
Increase Speed: Click Button  (10%)
Decrease Speed: Click Button  (10%)
REVERSE
Reverse On/Off: Hold Button  for 2 seconds
PARAMETER SETTING:
Main Menu Enter/Exit: Hold buttons  &  for 2 seconds
Submenu: Double Click Button  to select submenu
       BT(Batteries number)
       MP(Motor pole pairs)
ST(Signal type): 0:VESC TTL   1: PWM
TC (Throttle calibration)
Set Value: Click Button  or   to change and set value