IP68 waterproof and watercooling 8-16s 160A ESC for Jetboard efoil                                   propulsion system boat ect
Feature
Description
Remarks

battery support

12 - 14S LiPo

Supports lithium batteries up to 4.35V/S

Maximum working voltage
60.9V
 
Throttle PWM input level
3.3V/5V
 
Throttle PWM Compatible Frequency
50 - 500Hz
 
Throttle PWM working pulse width
1100 - 1900uS
"Identification pulse width: 400 - 2200uS, beyond which it is regarded as an invalid signal
Limit the maximum speed (7 pairs of poles)
13000rpm
Parking pulse width: 400 - 1090us
Communication Interface
RS485
Support data return and firmware upgrade
digital communication throttle
support
Support 50Hz refresh rate per ESC
Maximum peak current
180A
Acceleration peak current (10S)
Maximum continuous current
150A
Water cooling test
Rated output power
8KW
Measured 54V power supply, 150A continuous current
waterproof level
IP67
External motor cable and power cable reach IP45
Use ambient temperature
-20 - 45℃
Water cooling test
Indication function
drive motor sound
Support various scales, support customization
 
Bright red and green bi-color LED
The color can be selected by upgrading, and the yellow light is a fault indication
Power cord hot swap
With anti-sparking function
Extend battery plug life
Use safety
Stall protection
Continuously stalled for 1S, it will enter the stall protection state. If the stall time is less than 1S, it will not enter the protection state and will continue to start.
 
Overcurrent Protection
The software limits the peak value of the motor line current not to exceed the set value
 
Overheating power protection
After the maximum internal temperature reaches the set limit, reduce the output power to ensure that the temperature will not continue to rise
 
Short circuit protection
Hardware short-circuit protection, including motor line-to-ground, power supply short-circuit, short-circuit between motor lines, and MOS tube fault short-circuit
 
Overvoltage protection
Hardware short-circuit protection, including motor line-to-ground, power supply short-circuit, short-circuit between motor lines, and MOS tube fault short-circuit
 
Input signal discrimination
Filter and discriminate the input signal. Prevent the introduction of interference signals after the PWM line is disconnected to trigger false triggering
physical dimension
"With water cooling tube:
123.80*57.00*28.50mm;
square
 
Without water cooling tube:
 
 
111.30*57.00*26.00mm"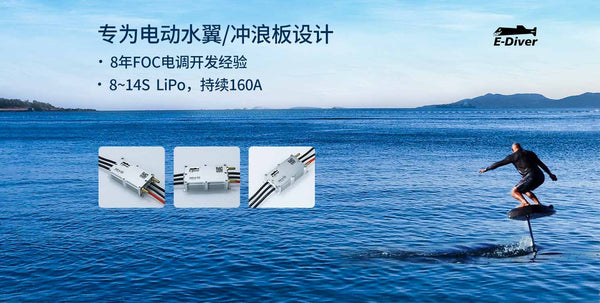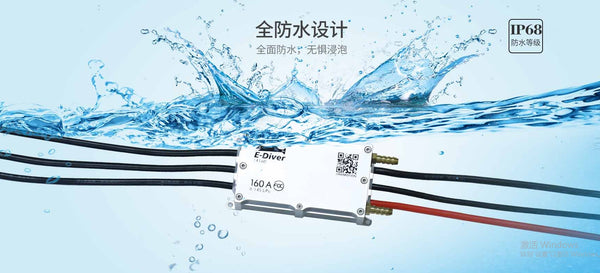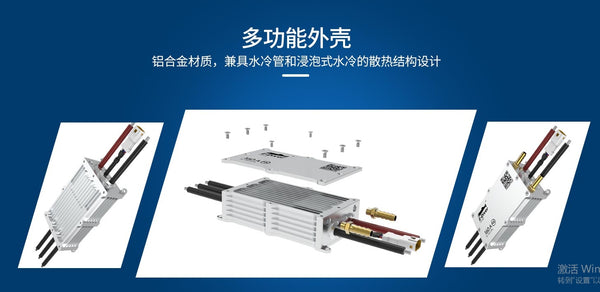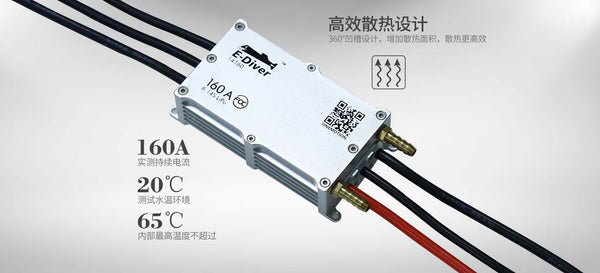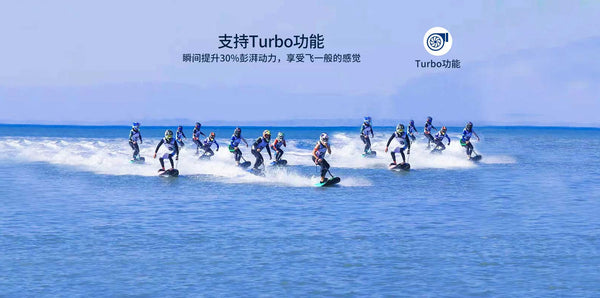 Drawing
4) Company Introduction
Dongguan Freerchobby Co.,Limited is a private-owned enterprise, located in Dongguan, which is famous for the world factory with highly developed economy. The company has 1500 square meters of modern industrial plants and advanced assembly line equipment. We are specialized in manufacturing brushless dc motor, controller, model parts, hardware parts and so on. The company has 10 CNC lathes, 5 BLDCM winders and various advanced automatic processing equipment. Our company has a very stable supply capacity, monthly production more than 15000 sets of brushless motor and motor and controller accessories as well as hardware accessories 100000. The products sell well in more than 50 countries and regions from the whole world.
The company strictly controls each process to be standardization, systematization and unification. The company has testing equipment such as dynamic balancing machine, comprehensive tester for BLDCM, noise tester, Gauss tester, tension tester, oscilloscope, etc. to test the performance of motor and controller in a full range and ensure that each performance index can reach the international leading level. All products and parts are in line with ROHS standards, and have won CE and ROHS certification.
The company adheres to the tenet of "quality first, reputation first and service superior", improves the brand awareness, gives full play to the brand advantages, maintains the brand image, and provides the most reliable quality, the best service and the fastest delivery for customers at home and abroad with exquisite technology and standardized management.
Our slogan is "we can do what you need"! We are looking forward to cooperating with you!
5) Production line Photos: