40 inch props large propeller generator for airplane brushless dc motor propellers
    Specifications

Diameter/Pitch

40*131.1inch   (1016mm*332.7mm)

Working Temp

-40℃~65℃

Weigh(Single propeller)

237g

Storage Temp

-10℃~50℃

Material

CF+Epoxy

Storage Humidity

<85%

Surface Treatment

Glossy

Optimum RPM

1000-2800 RPM/min

Propeller type

2blades-

intergrated

Thrust Limitation

60kg

Warning

(1)Please make sure that screws of cover plates and propellers are mounted properly

(2)Double check that propellers are flawless,otherwise,please replace them before flight

(3)Fall-off or equivalent impact to propellers will lead to defromation or cracks,in this case,you will need replace them

(4)NEVER add force onto the propellers or decompose the propellers,Any decomposition will result in safety issues

(5)For safety,please stay away from the spinning propellers,Special attention should be paid to when using propellers

(6)Please keep the propellers away from hostile environments containing corrosive gases,and maintain strict compliacce with storage temperature and humidity requirements,especially when it comes to long-time storage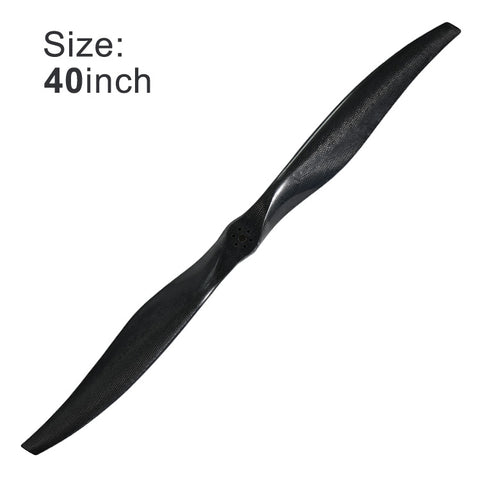 The standard hole pattern: 6M5/12mm.  The center hole is 12mm. 
Testing report: 
Motor
120100 50kv
ESC 
120V 500A
Propeller
4010    2 blade propeller
 
 
 
 
Voltage (v)
Amps(A)
Thrust(kg)
RPM
111v
30A
18.5kg
2783
111v
50A
26.4kg
3335
111v
80A
37kg
3905
111v
100A
42.7kg
4168
111v
130A
50kg
4400
111v
140A
53.7kg
4570
Applications:
1.UAV Drone, Copter, FPV frame parts, Tools,model,medical devices,toys,telescopic tube;
2.Heli RC Racing Car Parts;
3.Medical X-ray machine Carbon Parts;
4.Mobile or Jewelry electronic Production Decoration;
5.Industrial mechanical parts sports priducts parts;
4) Company Introduction
Dongguan Freerchobby Co.,Limited is a private-owned enterprise, located in Dongguan, which is famous for the world factory with highly developed economy. The company has 1500 square meters of modern industrial plants and advanced assembly line equipment. We are specialized in manufacturing brushless dc motor, controller, model parts, hardware parts and so on. The company has 10 CNC lathes, 5 BLDCM winders and various advanced automatic processing equipment. Our company has a very stable supply capacity, monthly production more than 15000 sets of brushless motor and motor and controller accessories as well as hardware accessories 100000. The products sell well in more than 50 countries and regions from the whole world.
The company strictly controls each process to be standardization, systematization and unification. The company has testing equipment such as dynamic balancing machine, comprehensive tester for BLDCM, noise tester, Gauss tester, tension tester, oscilloscope, etc. to test the performance of motor and controller in a full range and ensure that each performance index can reach the international leading level. All products and parts are in line with ROHS standards, and have won CE and ROHS certification.
The company adheres to the tenet of "quality first, reputation first and service superior", improves the brand awareness, gives full play to the brand advantages, maintains the brand image, and provides the most reliable quality, the best service and the fastest delivery for customers at home and abroad with exquisite technology and standardized management.
Our slogan is "we can do what you need"! We are looking forward to cooperating with you!
5) Production line Photos: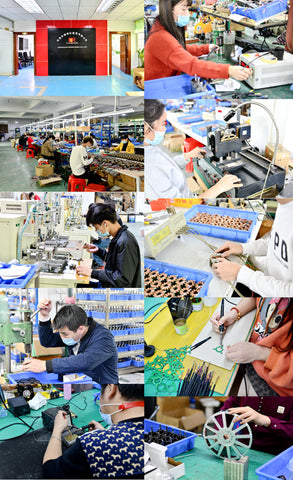 6) Certificate