Electric Skateboared Longboard Speed Controller VESC50A V4 based Controller for E-bike Fighting Robotics
Official original version,Hardware version 4.12,compatible with VESC TOOL, firmware version 3.50, can be used for model, multi-axle vehicle, electric vehicle, electric skateboard, golf car, intelligent car, robot, and simple industrial position control.

- Hardware: V 4.12
- Voltage: 8V - 60V (2S to 12S LiPo safe).
- Voltage spike should not exceed 60V!
- Current: Continuous 50A, maximum instantaneous pulse 100A. 
- 5V 1.5A Output
- 3.3V 1A Output
- Mode: DC, BLDC, FOC (sinusoidal)
- Supported sensors: ABI, HALL, AS5047
- Regenerative braking
- Traction control (single and double settings)
- Sensorless or Sensorless Operations + Mixed Mode
- Configurable RPM, Current, Voltage and Power Limitations
- Input source: PPM, simulation, NRF Nyko Kama Nunchuck
- Communication Port: USB, CAN, UART
- Throttle Curve and Slope of All Input Sources
- Separate acceleration and brake throttle curves
- Seamless Four Quadrant Operation
- Motor speed, ampere hour, watt hour count
- Real-time data analysis and readout through communication ports
- Adjustable protection:
- Low input voltage
- High input voltage
- High motor current
- High input current
- High regenerative braking current (motor and input limit separately)
- High Speed (Individual Restriction in Each Direction)
- Overtemperature protection (MOSFET and motor)
Photos: 
Interface port: 
4) Company Introduction
Dongguan Freerchobby Co.,Limited is a private-owned enterprise, located in Dongguan, which is famous for the world factory with highly developed economy. The company has 1500 square meters of modern industrial plants and advanced assembly line equipment. We are specialized in manufacturing brushless dc motor, controller, model parts, hardware parts and so on. The company has 10 CNC lathes, 5 BLDCM winders and various advanced automatic processing equipment. Our company has a very stable supply capacity, monthly production more than 15000 sets of brushless motor and motor and controller accessories as well as hardware accessories 100000. The products sell well in more than 50 countries and regions from the whole world.
The company strictly controls each process to be standardization, systematization and unification. The company has testing equipment such as dynamic balancing machine, comprehensive tester for BLDCM, noise tester, Gauss tester, tension tester, oscilloscope, etc. to test the performance of motor and controller in a full range and ensure that each performance index can reach the international leading level. All products and parts are in line with ROHS standards, and have won CE and ROHS certification.
The company adheres to the tenet of "quality first, reputation first and service superior", improves the brand awareness, gives full play to the brand advantages, maintains the brand image, and provides the most reliable quality, the best service and the fastest delivery for customers at home and abroad with exquisite technology and standardized management.
Our slogan is "we can do what you need"! We are looking forward to cooperating with you!
5) Production line Photos: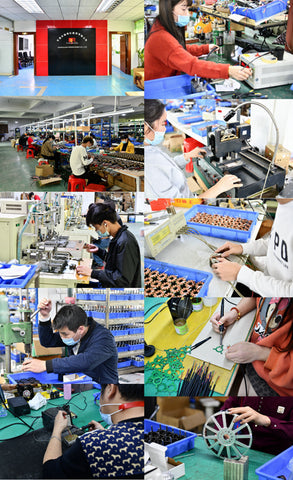 Certificate